Termite Control Services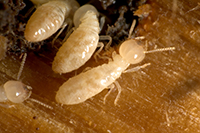 Left untreated, termites can cause incredible damage to wooden components of buildings, as the pictures on the right show. It is not uncommon for termites to do many thousands of dollars worth of damage before they are detected. Over time, they could literally reduce a home to sawdust if they remained undetected and untreated.
In fact, it's estimated that termites cause several billion dollars of damage a year in to buildings in the United States alone, making them the single most destructive non-agricultural pest.
Termites gain access into a home or building in many ways, including: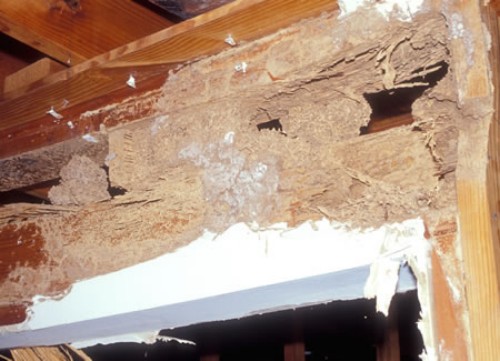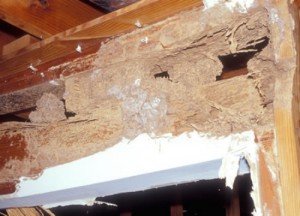 Around water pipes
Through cracks in foundation
Directly, when wood is in direct contact with soil
From behind walls
Under floor coverings
Through expansion joints between the slab and the foundation footer
From inside hollow block foundations
From wood debris left in crawl space.
From storing firewood and other wood debris next to the foundation
From untreated wood decks attached to foundation
Through expansion cracks for room additions
Liquid Barrier Treatment
To minimize the risk of termite damage, a liquid barrier soil treatment is applied around the foundation and some of the structural components of your home. Before any work is performed, we conduct a detailed inspection and give you a written estimate for the work.
And most importantly, once the barrier has been applied, you should get annual inspections to ensure your most valuable asset is protected.
There are several types of termite control chemicals registered by the relevant State and/or Federal Government Authority for use in termite control as a soil treatment chemical.
WARNING: Several outdated products are solvent based termite control pesticides which may cause health problems to asthmatics during the drying process.


Termidor and Premise are the safer effective alternatives and do NOT have an obnoxious odor or emit airborne residues or fumes. Both are registered as a low hazard insecticide. Both are water based, have virtually no smell and of ultra-low hazard to humans, dogs, cats and other mammals.